Description
Howe Brook is located in a deep valley between the North Ridge of The Traveler and Center Ridge. The trail was opened in the mid-1970s. It is primarily a valley trail and offers a leisurely day hike along the many falls and pools of the brook. There are two sets of falls that are particularly impressive, the lower one having a number of smooth sluices and potholes. The other has a sheer drop in a deep dark ravine.
The trail has ample water and is blue-blazed. There is an elevation gain of 700 feet.
The trail begins on the Pogy Notch Trail, starting at the east end of South Branch Pond Campground. The trail follows along the shore of South Branch Pond for 1 mile before reaching the junction with the Howe Brook Trail, to the left. The Howe Brook Trail parallels the north bank upstream for 0.2 miles, where the first of a series of smooth chutes with deep pools is encountered. There are also a number of well-developed potholes formed by the grinding action of pebbles propelled by circular currents. These provide interesting and invigorating swimming in natural "bathtubs."
Above this point is a continuous series of falls to 0.5 miles. The trail crosses and re-crosses the brook, then commences a long gradual climb along its banks. At 1.8 miles an unmarked side trail leads right (south) to a set of falls and flumes located in a deep ravine. The main trail climbs steeply away from this ravine (use caution here) but rejoins the brook above the ravine. At 2.0 miles the trail ends at the base of a 20 foot sheer waterfall with a small pool at its foot. This is a good picnic spot.
The 6 mile hike to the upper end of the trail from South Branch Pond Campground can be shortened 1.75 miles, by canoeing across the pond from the campground to a landing on the Pogy Notch Trail just north of the mouth of Howe Brook.
Other Information
Park Fees: See website for entrance and camping fee schedule. [No entrance fee for Maine residents.]
Park Rules: See a more complete list here.
All persons entering the Park by road or trail must register their entrance at a gatehouse or self-registration station
The maximum size of hiking groups is 12 persons
All groups of five or more persons under 16 years of age must be accompanied by at least one adult, responsible for the supervision of a maximum of five youths
For all trash: Carry-in; carry-out
Where toilets are not available, human waste must be buried at least 200' from water or carried out
Pets or other domestic animals are not allowed in the Park
Camping is permitted by reservation only
Fires or other cooking or heating devices are permitted only in designated campsites or picnic areas
Hunting and trapping are prohibited within the Park (with some exceptions)
Maine fishing laws apply within the Park
No person may feed, bait, or disturb any animal within the Park
Power equipment is prohibited (including generators)
All vehicles must display an entrance permit while in the Park
Trail Manager
For more information and detailed trail maps, visit the Baxter State Park Authority website, or contact: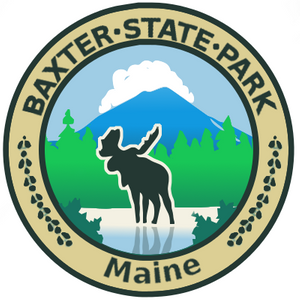 Baxter State Park Authority
64 Balsam Drive
Millinocket, ME 04462
Phone: (207) 723-5140
View website