Description
The Piney Knoll Conservation Area, formerly the Marsh Island Nature Area, offers over three miles of trails on varied terrain and habitat with everything from riverside marsh and open fields to regenerating and mature forest stands.
An area known as "Piney Knoll" is a popular place to sit and rest while surrounded by towering pines. In the winter, the network is connected to the University of Maine cross-country ski network and is a favorite local ski spot.
Other Information
Dogs need to be under control of their owners. Please observe the carry-in carry-out policy.
An active railroad track runs through the property near the Penobscot Street entrance. Please exercise caution near these tracks.

This trail passes through a property that was acquired in part with funds from the Land for Maine's Future program. For more information about the LMF program and the places it has helped to protect, please visit the LMF webpage.
Trail Manager
Visit Orono Land Trust online for more information and a printable map or contact: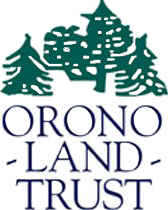 Orono Land Trust
PO Box 4
Orono, ME 04473
oronolandtrust@roadrunner.com
View website