Description
Rising above the coast of Cape Elizabeth, the rocky hills of the Robinson Woods Preserve contain over 145 acres of contiguous woodlands, fields and ponds, and offers over three miles of exceptional walking trails among centuries-old trees.
Due to its rocky, uneven terrain, much of the Robinson Woods Preserve was not suitable for farming and remained in its natural forested state for hundreds of years. The trails pass through massive white pine, red oak, and hemlock trees, some as many as 300 years old. Perennial streams and vernal pools meander through the forest floor where abundant wildflower and fern groves flourish. Deeper into the woods, the trails explore 12 acres of fields, 5 acres of ponds, and over 20 acres of significant wetland habitat for wading birds and inland waterfowl, providing pleasant walking and excellent wildlife viewing opportunities. The trails north of the parking area are rocky and rooty, while the trail to the pond is smoother with fewer tripping hazards. Past the pond, there are more roots.
Across from the Shore Road trailhead, visitors can access the shoreline of Pond Cove, part of the Robinson Woods property. This shoreline is special because of its freshwater outlet, attracting numerous waterfowl, combined with exceptional ocean views from its stone beach. As the site of some of the first settlements in Cape Elizabeth, Pond Cove is both historically and ecologically important.
Read about Enock's experience using a wheelchair on these trails in MTF Stories. Click here.
Other Information
Please cherish and help care for this natural preserve, by limit trail use to daytime hours only, carry out all waste, and staying on marked trails.
Please, no:
foraging
commercial use of property
motorized vehicles
fires and camping
alcoholic beverages and illegal substances
Notice for dog owners, off-leash use is regulated on this property:
Dogs are allowed off-leash on the Pond Trail before 10am daily.
Dogs are allowed off-leash on the Outer Loop Trail after 4pm daily during EDT, 3pm daily during EST.
Please clean up after your dog; waste bags are available at the trailhead.
Please do not allow dogs to swim in ponds or streams.
Trail Manager
For additional information, visit the Cape Elizabeth Land Trust website, or contact: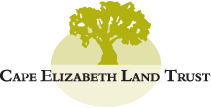 Cape Elizabeth Land Trust
330 Ocean House Road
Cape Elizabeth, ME 04107
Phone: (207) 767-6054
info@capelandtrust.org
View website