Description
The Spring Road Trail follows the edge of Lake Auburn on a wide gravel road that is gated at each end. Numerous viewpoints are available on the edge of the road, showcasing sweeping views of Lake Auburn.
The trail is wide with a largely packed gravel surface. Some areas have loose stones. There are gradual hills. At the gates, the trail openings are approximately 25 inches wide.
Read about MTF Accessibility Ambassador Enock Glidden's visit to the greenway using his wheelchair at MTF Stories.
Other Information
As Lake Auburn is the sole source of drinking water for Lewiston, Auburn, and surrounding communities swimming is not allowed. Dogs are also not allowed in the water. The regulations for Lake Auburn prohibit all body contact, even your hands from touching the water. The fines are hefty, up to $2500.00 for each violation.
Trail Manager
Visit the Lake Auburn Watershed Protection Commission online for more information or contact: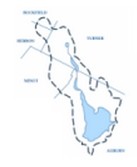 Lake Auburn Watershed Protection Commission
268 Court Street
Auburn, ME 04212
Phone: (207) 784-6469
lrichard@awsd.org
View website