Description
Built in 1934, the Grand Lake Stream Fire Tower is the oldest standing wooden fire tower in Maine. Formerly used to monitor wildfires, the tower is an important part of the history of the village, but the views have mostly grown in. DO NOT attempt to climb the tower, due to structural and safety issues.
From the tower, the trail heads east, descending down the backside of Tower Hill through mixed woodlands. Follow the blue, circular metal trail tags. The single-track trail passes over short sets of bog bridging, through a forested cedar wetland - a great place to find many different species of fungi! Continuing up along a hardwood ridge, keep an eye out for wildlife. Deer, bobcat, snowshoe hare, squirrels, and many types of birds are commonly seen. Descend the steep switchbacks and drop down to Bonney Brook Road. Carefully cross the road, as the trail follows the shoreline of Bonney Brook Lake through thickets of huckleberry and highbush blueberry. When the trail returns to the road, follow the road for 100 yards, and turn left at the arrow. Continue along the trail until you reach a snowmobile trail. Turn left here, and follow the trail for 0.5 miles to return to the trailhead and the tower. Please stay on the trail, and carry out any refuse you bring in. Overnight camping is not permitted.
Other Information
Downeast Lakes Land Trust (DLLT) is a nonprofit founded in 2001 by local residents in Grand Lake Stream, Maine. We contribute to the long-term economic and environmental well-being of the Downeast Lakes region through the conservation and exemplary management of its forests and waters. In 2001 we laid out our strategy for the future – a bold vision to protect extraordinary natural resources and a way of life. Many supporters and partners have helped us succeed in protecting 350,000 acres of the forests, wildlife habitats, watersheds, and lake shores that can sustain the regions future. DLLT sustainably manages the 55,678-acre Downeast Lakes Community Forest, with 90 miles of lake shore, for wildlife habitat, forest products, and public recreation.

This trail passes through a property that was acquired in part with funds from the Land for Maine's Future program. For more information about the LMF program and the places it has helped to protect, please visit the LMF webpage.
Downeast Phenology Trail
While visiting this beautiful trail take part in our scientific research project: Phenology Trackers of Maine (PhToM). Millions of songbirds migrate south every fall along the northeast coastline. To get from here to there they need stopovers to refuel on fruits and insects. This hiking trail is one of those stopover locations.
As the climate changes, temperatures are going up. And as things heat up, fruits ripen and insects emerge earlier and earlier. But, birds are migrating south later and later. Will there be any fruits or insects left for the birds when they fly through our region? You can help us answer this question--check out our project website before you go for your hike.
Schoodic Institute is an independent 501c3 nonprofit organization committed to advancing ecosystem science and learning for all ages through a unique partnership with Acadia National Park. Schoodic Institute and Acadia National Park are national leaders in the development of new techniques to involve the public in science, education and conservation.
Trail Manager
Visit the Downeast Lakes Land Trust online for more information or contact: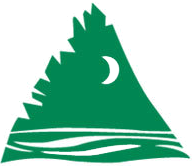 Downeast Lakes Land Trust
4 Water Street
Grand Lake Stream, ME 04668
Phone: (207) 796-2100
info@downeastlakes.org
View website