Vaughan Woods Memorial State Park
Hide Map
Trailhead
Travel south on ME Route 236 out of South Berwick. After about a half mile, turn right on to Vine Street (opposite a cut off to Academy Street and the junior high school). Go about one mile to end of Vine Street at an intersection with Old Fields Road. Turn right and continue to follow the road as it bears left. Watch for the park entrance on the left.
Description
Whether you seek a relaxing stroll, an aerobic workout, restful solitude, or fun with family and friends, this park offers something for everyone. Hikers will find some trails along steep slopes, while benches at scenic overlooks offer a chance to rest and enjoy scenic river views. All trails wind through a mixed growth forest with wildflowers, birds, and other wildlife, including rabbits, squirrels, coyotes, foxes, porcupines, deer, and moose.
The River Run Trail (0.8 miles): offers a scenic stroll along the Salmon Falls River, which provided transportation for the earliest settlers for their timber harvest. The river was named for the salmon that abounded at the falls during migration as the river connected the interior to the ocean and it also powered the first sawmill built in America.
The Bridle Path Trail (0.7 miles): is the return loop following gently rolling terrain. There are majestic old growth Pine and Hemlock trees along this trail, many of which are more than a century old. Most of the park was covered with brushy fields, and young woods that was less fertile for farmers. In the 1630's, much of this property was bought by Europeans and often given to indentured servants upon completion of their service. James Warren, a Scot loyal to the King of England during the civil war, was one of these indentured servants. At the end of his indentures, he settled on a 50 acre lot within the current park where a plaque marks his old home site.
There are several smaller trails that run along the Bridle Path Trail and River Run Trail offering a hiker several options for hiking when visiting the park.
After a hardy hike, visitors can enjoy a picnic at one of the parks many picnic tables with charcoal grills. Groups of 10 or more should make reservations at least 30 days in advance, especially those planning weddings at the park.
Other Information
In 1949, Elizabeth Vaughn bequeathed to the State of Maine her beautiful forest to be kept in the natural wild state which is now known as Vaughn Woods Memorial State Park. She was a nature lover and accomplished horsewoman who enjoyed daily rides through this forest.
When hiking the trails, wear sturdy shoes and be aware of slippery conditions when the trails are wet. In spring, summer, and fall, ticks may be plentiful. Visitors should take precautions to avoid these ticks and possible exposure to Lyme disease. An excellent area to snow shoe and cross-country ski, the park gates are closed in the winter. Please park along Oldfields Road and keep vehicles out of travel lanes.
Trail Manager
Visit Maine Bureau of Parks and Lands online for more information or contact: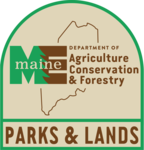 Maine Bureau of Parks and Lands, South Berwick
Park Manager
28 Oldfields Road
South Berwick, ME 03908
Phone: (207) 384-5160

Nearby Geocaches

Check for nearby geocaches to Vaughan Woods Memorial State Park.
Leave No Trace Principle
Travel and Camp on Durable Surfaces
Make a small campsite, preferably where there is no vegetation.