Description
The West Side Trail is a multi-use trail that brings off-road single track bicycling to Yarmouth. Offering multiple loops within each section, this multi-use walking/running/ biking trail presently stretches from the Cousins Island power plant to US-1 in the CMP power line corridor. There are also two discrete sections of universally-accessible trail to the west of US-1.
Much of the trail is under the cover of the adjoining tree canopy, presenting a remarkably pleasant experience from what might otherwise be anticipated along a power line corridor. The trail can be accessed at any of the numerous road crossings (look for crosswalks and trail crossing signs) and parking is available at the Fels-Groves Farm Preserve on Gilman Road and at the Tyler Technologies upper parking lot on Tyler Drive. The West Side Trail is entirely within the boundaries of the Central Maine Power transmission corridor.

Recent additions to the nearly 8 miles of single track trail of the West Side Trail were built to Universal Access (UA) Standards with gentle slopes and firm gravel surface. The trail section between West Elm Street and the I-295 Park & Ride crosses railroad tracks, which may be difficult for users with certain mobility devices. This section provides a pedestrian and bicycle connection from several Yarmouth neighborhoods to the Park & Ride facility with bus service to Freeport and Portland.

Walkers/bikers can connect the 0.6-mile UA section of trail to the rest of the trail by traveling along US-1 and Tyler Drive. As of summer 2022, trail managers are working to connect the two UA sections with more trail.
Visit Enock's Adventures at MTF Stories to read about Enock's experience using his wheelchair on the West Side Trail.
Other Information
With dogs, walkers, mountain bikes and runners all frequenting this multi-use trail, caution and courtesy is required of everyone. Dog walkers must comply with the town's Dog Control Ordinance, which should be consulted for current requirements and information.
Trail Manager
Visit Yarmouth Community Services online for more information or contact: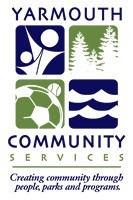 Yarmouth Community Services
200 Main Street
Yarmouth ME 04096
Phone: 207-846-2406
info@yarmouthcommunityservices.org
View website