Royal River Water Trail: Sabbathday Lake to Casco Bay
Hide Map
Safety: Be a Safe and Respectful Paddler –
–
Paddling conditions will vary according to the weather and season, so always exercise caution and always wear a lifejacket. With good judgment and proper equipment, the risk associated with paddling can be minimized. Respect the natural world and the rights of landowners, and be considerate of other outdoor enthusiasts. Paddlers should seek to avoid causing erosion, trampling vegetation, disturbing wildlife, and harming water quality.
Trailhead
There are many launches along this stretch of the Royal River for both hand-carrying and trailering boats. Please see RRCT.org for more information.
Description
The Royal River Water Trail from Sabbathday Lake to Casco Bay includes a wide variety of paddling experiences, and public water access points for fishing, fiddleheads, paddling, birding, hunting, camping, swimming, picnics, shoreline hiking and biking on conserved lands and parks, and more. In the winter, sections of the Royal River are popular for skiing or skating. The Royal River Water Trail is best experienced as a series of day trips, with the best overnight options at local inns or campgrounds. Lanes Island at the mouth of the Royal River provides the only camping for boaters along the water trail. Day trip options include flatwater paddling for youth or novices with no necessary car shuttle. Other options include exciting white water for experts only with the right water conditions.
Day trip options include flatwater paddling for youth or novices with no necessary car shuttle. This trail connects by water to the Maine Island Trail in Casco Bay and by land to Yarmouth's new West Side Trail and the shoreline paths of Royal River Park.
The uppermost reaches of the Royal River and its headwater ponds include beautiful quiet flatwater paddling trips and great fishing, though many sections of the upper river are simply too small to paddle. The two mile stretch (four miles round trip, or shuttle) from Tobey Rd downriver to Bald Hill Rd (Fairgrounds) in New Gloucester is flat with a minor current, easily paddled in either direction by novices. One larger beaver dam requires a short portage, roughly half-way between the two roads.
A popular day trip on the water trail is the 5.8-mile flatwater stretch from Route 9 in North Yarmouth to East Elm Street/Royal River Park in Yarmouth. This stretch can be paddled by novices either upriver or downriver with equal ease and has parking, boat launches, and nearby restrooms at both ends. With minimal development and meandering oxbows, this section provides an escape into the quiet woods of Maine. The Yarmouth History Center near the boat launch in Yarmouth has exhibits and displays for youth and adults.
Below this point, dams and waterfalls create significant portages or whitewater paddling opportunities until the river passes First Falls near Grist Mill Park. For more information, please consult the Downtown Yarmouth Paddler's Guide provided by the Royal River Conservation Trust.
Popular paddling trips along the Royal River Water Trail below First Falls include coastal stretches and estuaries from public access points including Yarmouth Town Landing, Sandy Point Beach on Cousins Island, and Freeport's Winslow Park. Any ocean boating trip requires careful preparation and special safety considerations.
In the winter, sections of the Royal River are popular for skiing or skating.
Other Information
The Royal River Conservation Trust provides up-to-date and detailed information about the Royal River Water Trail, including specific trip options and detailed maps illustrating nearby parks, hiking, and conserved lands.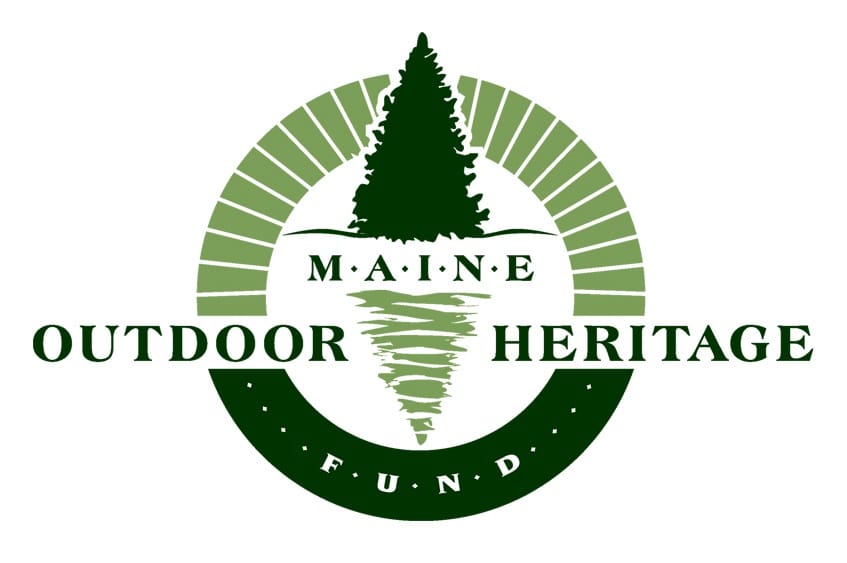 This trail was made possible in part with funds from the Maine Outdoor Heritage Fund (MOHF). For more information about MOHF and the wildlife and conservation projects it has contributed to, please visit the MOHF webpage.

Trail Manager
Visit Royal River Conservation Trust online for more information and a printable map or contact:
Royal River Conservation Trust
PO Box 90
325 Main Street
Yarmouth ME 04096
Phone: (207) 847-9399
info@rrct.org
Nearby Geocaches

Check for nearby geocaches to Royal River Water Trail: Sabbathday Lake to Casco Bay.
Leave No Trace Principle
Plan Ahead and Prepare
Be prepared for emergencies. Pack extra clothing, food, and water and also a flashlight, first aid and repair kit, matches/fire starters, whistle, signaling mirror, and pocket knife.