This is a guest post written by Enock Glidden, MTF Accessibility Ambassador, Public Speaker, Adaptive Athlete, and Adventurer. To learn more about Enock, please visit his website.
Hey, fellow hikers I almost don't want to tell you about hiking in Harpswell because it was that good! I am tempted to keep it for myself. Of course, that's not how this works so I will give up the goods.
I have gotten a number inquiries from people looking for places to hike near where they live and Brunswick is one of those places. Harpswell is only a few miles from Brunswick depending on where you start and finish. I had a recommendation from a friend to check out Wilson's Cove Trail. Unfortunately, we missed the parking lot and decided to keep on driving to the very end of Harpswell. We were also looking for Potts Point Preserve. This one didn't look accessible at all which made me want to try it. I know what you are thinking -- Why would he want to try something that isn't accessible?
Because just like able-bodied people have multiple options from easy to strenuous, I believe everyone should be able to choose their own adventure.
We arrived at what we thought was the parking area for Potts Point Preserve and it looked like it might be an all day ordeal to get any amount of distance into the preserve. We once again decided to keep driving and headed back toward downtown Harpswell.
Curtis Farm Preserve
We saw the sign for Curtis Farm Preserve and without really doing any research at all decided to stop and try it. The parking lot is very flat and firm, so no trouble there. There is a gate with steel cable across the opening which would be difficult to get past. Luckily they put rocks beside the opening and left a large enough space between the rocks to get a wheelchair through.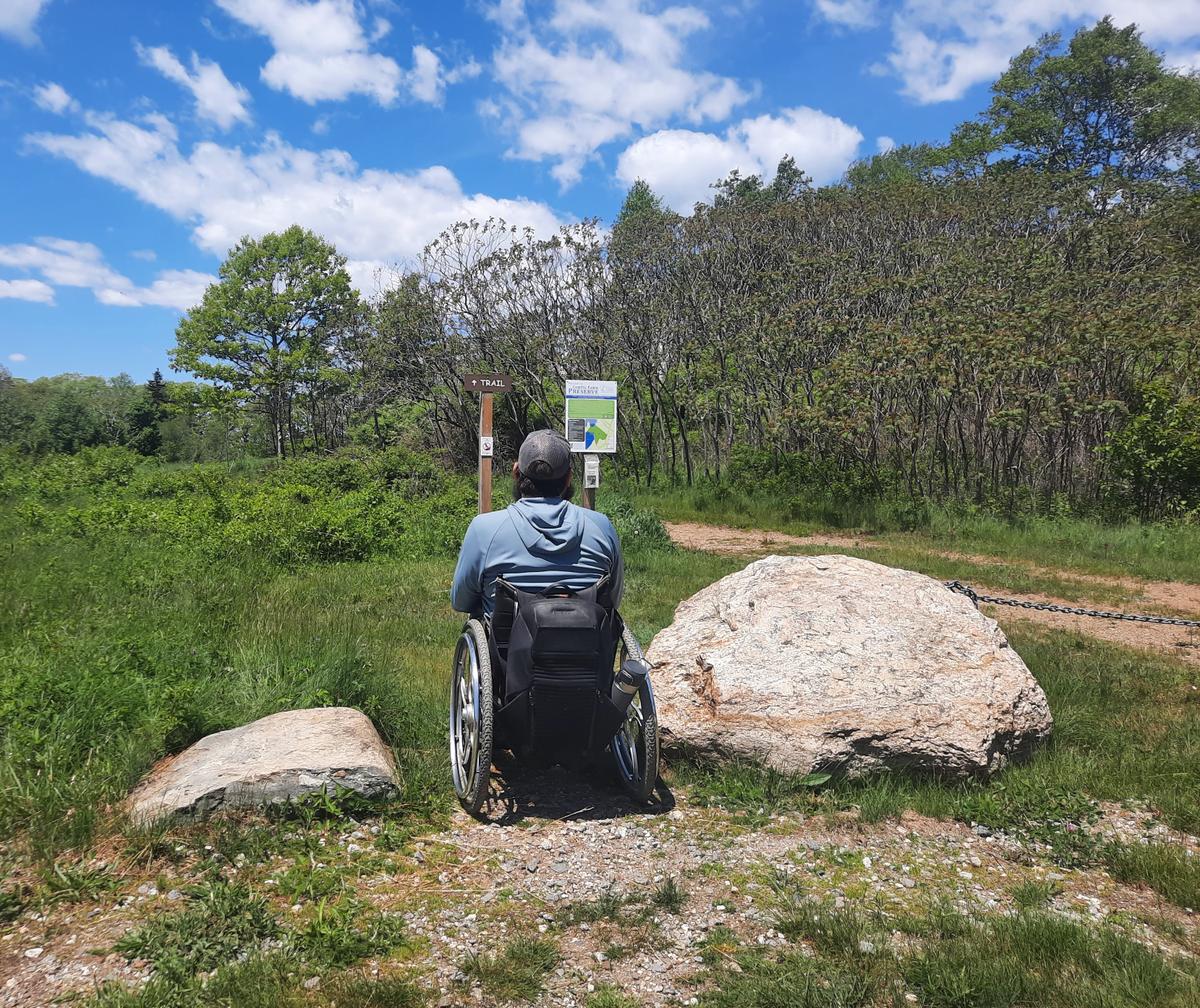 Enock demonstrating the width between boulders at the trailhead for the Curtis Farm Preserve.
The trails start on an old farm road. I would say it is probably the road they used to get to the field. It was firm and flat but not necessarily a perfect surface.
The trail meanders through the woods with a few small hills for about a half-mile.
The old road going into Curtis Farm Preserve.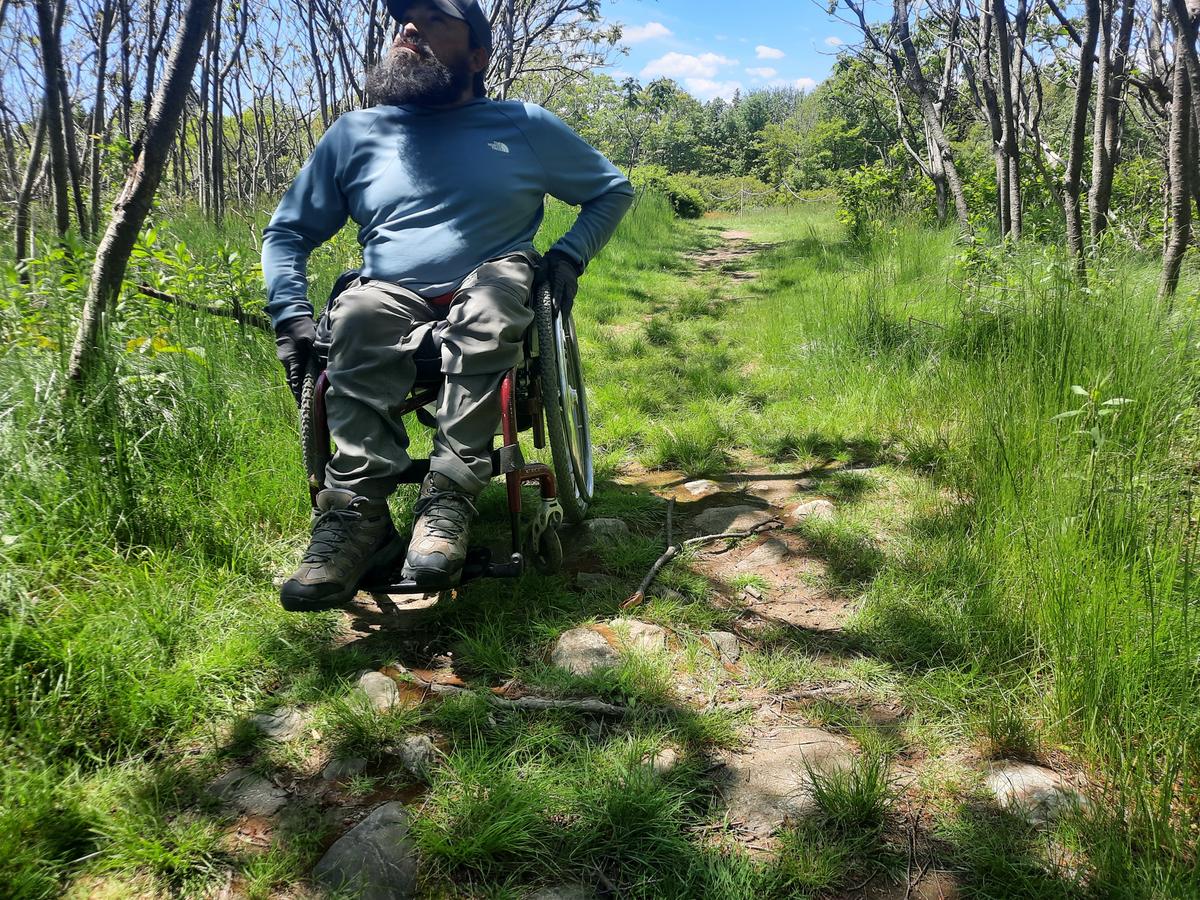 The trail surface in the section through the woods.
Then things took a turn for the worse. This is where I started to question if I should turn around. If you have read some of my previous blogs you know I don't like to turn around. I have a need to see if it gets better and what's around the next corner.
Well around that first corner was a seriously rocky section.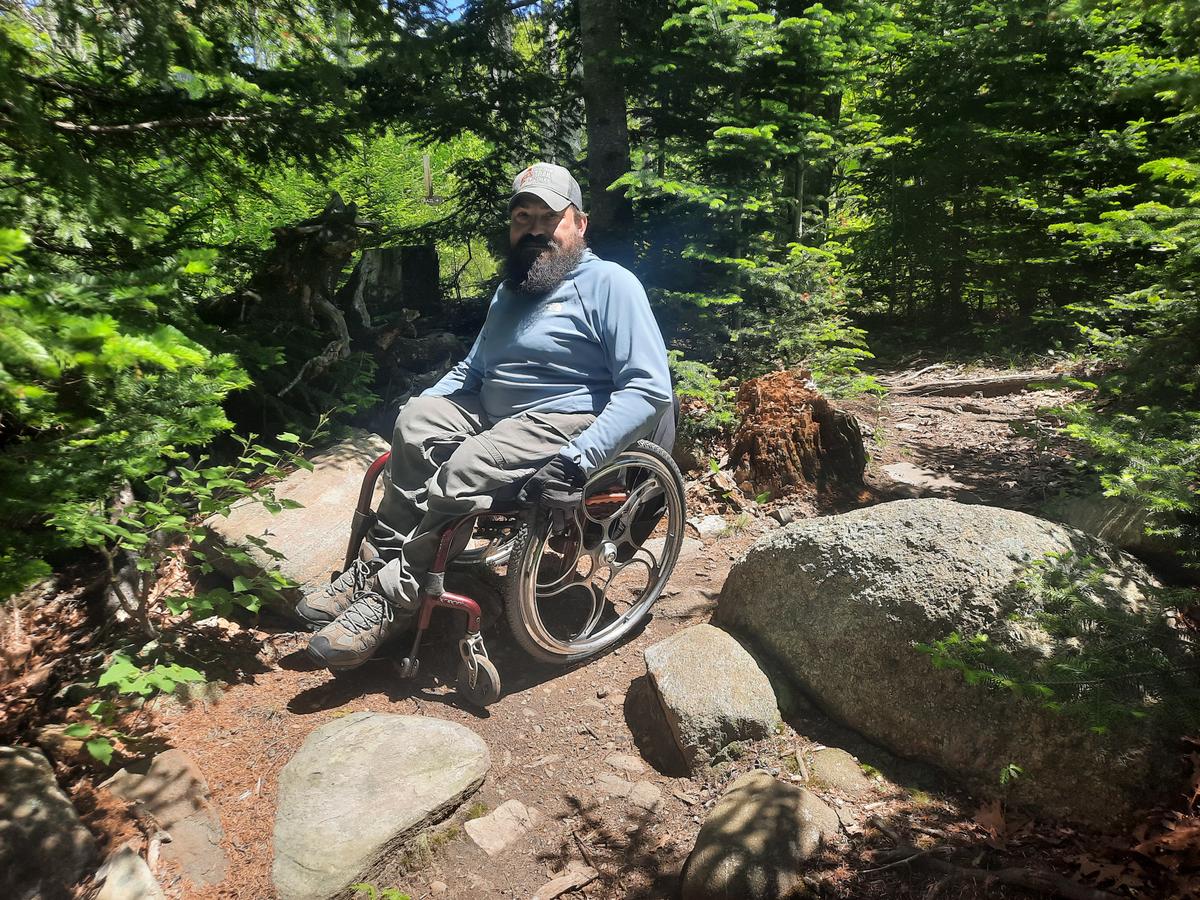 A rocky section along the trail.
It wasn't so bad I had to stop though. There was enough room to maneuver through without help.
The next moment I questioned whether or not to turn around was at a dreaded bog bridge. This bridge was so close to being wide enough for my chair that I almost attempted it. It just wasn't quite wide enough to safely and completely fit my tires. One or two more sections of the log and I would have been good to go. Well, that and ramps on both ends.
This is probably that moment when I should have turned around as you will soon see. I didn't turn around instead I scooted across while Sandy carried my chair.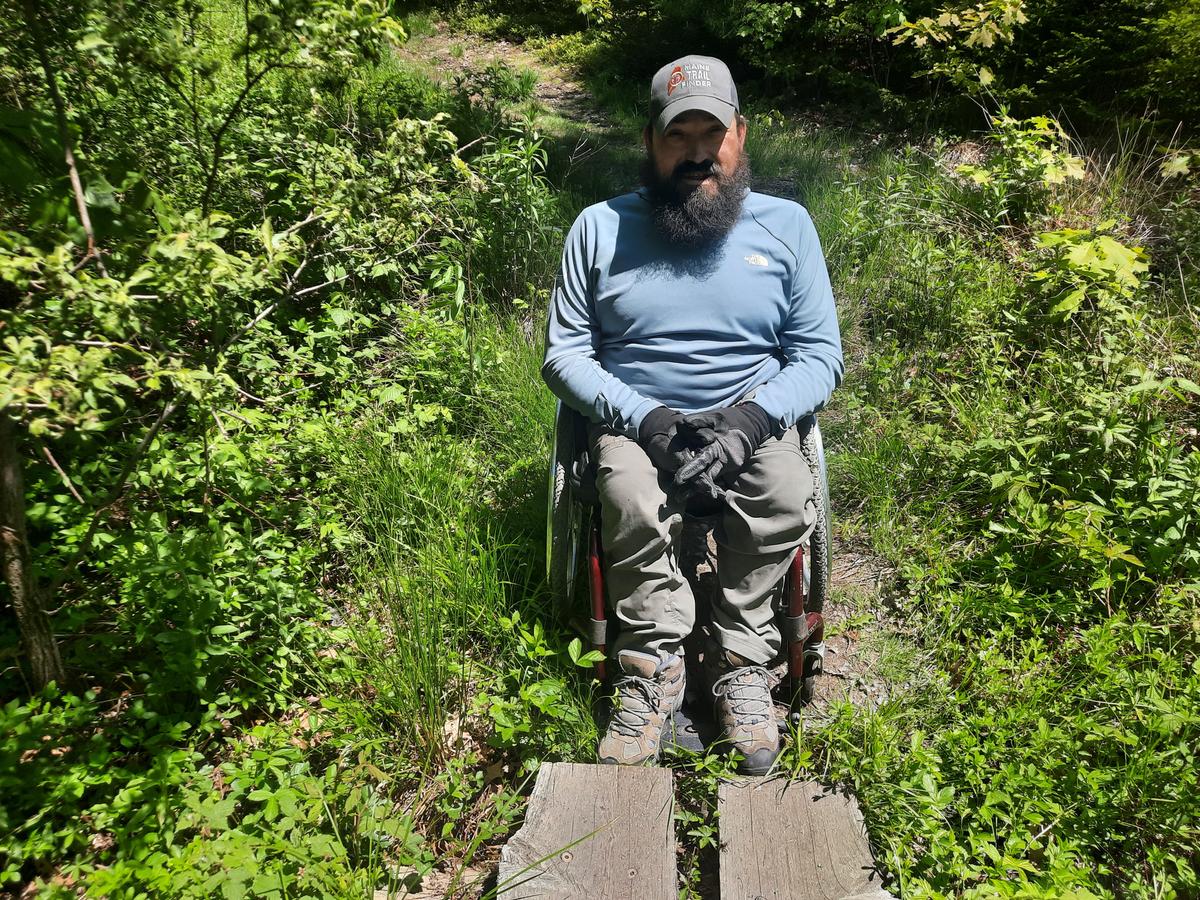 Enock demonstrating the width of the bog bridge compared to his wheelchair.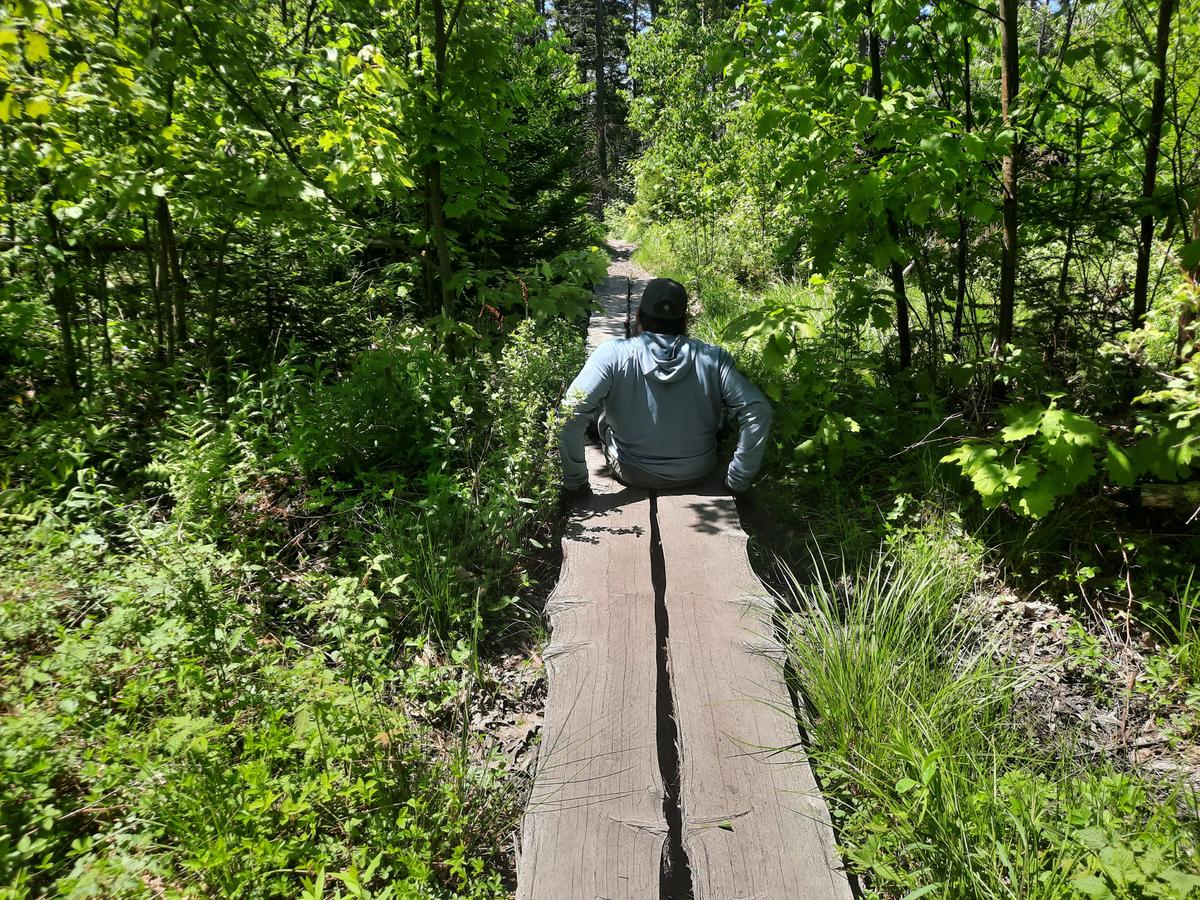 And crossing the bridge without the chair.
Things just got worse from there. I encountered major root systems and rocks that made me question turning around. Again I didn't turn back because I could see a way forward.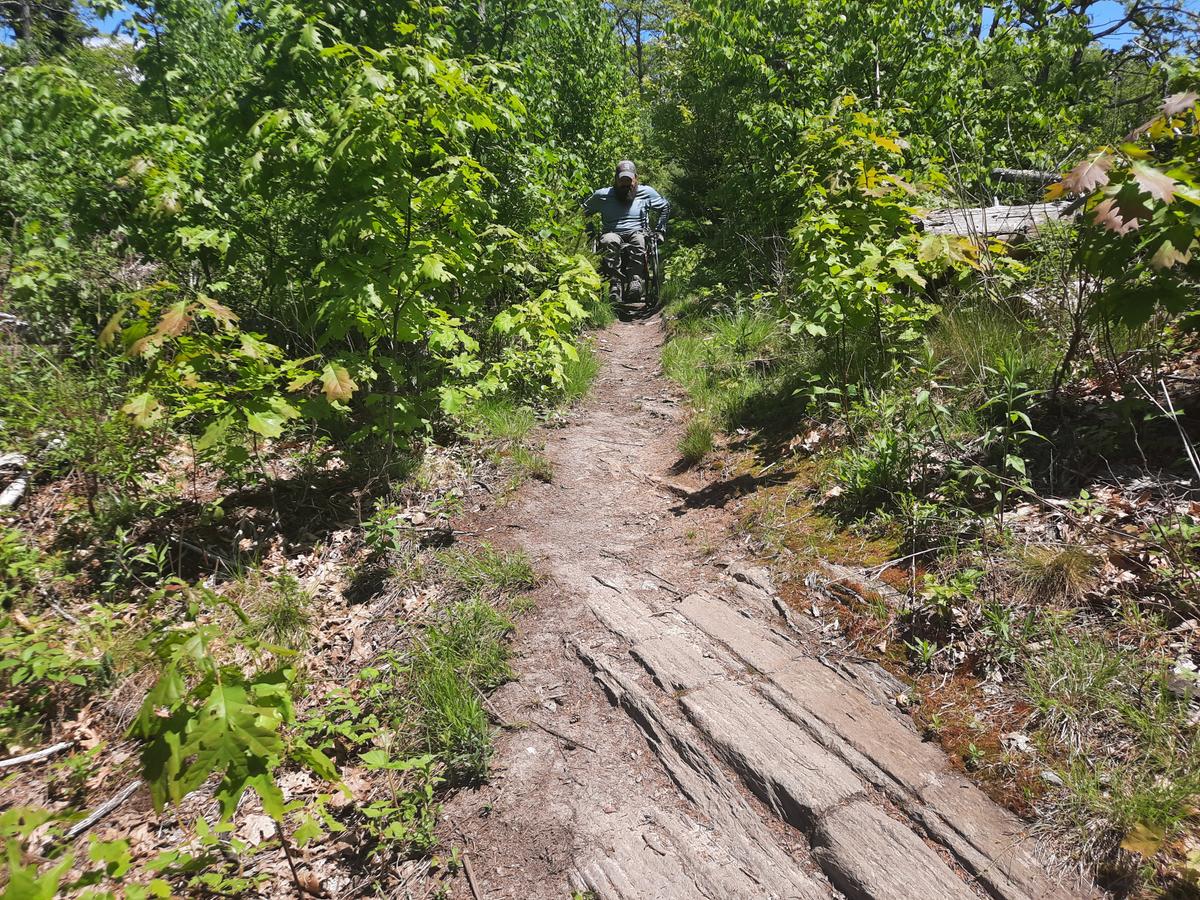 Enock getting through another challenging section of trail.
We finally came to a section that just wasn't passable. It was super steep and covered in huge roots. This is when I had the "aha moment" that I should have turned around at that first bog bridge. I was exhausted, hungry, and thirsty by the time we got back to the car. I did love the experience though. What an awesome challenge!
I didn't end up trying the field trail because of the hunger, thirst, and need for a bathroom. If anyone wants to try it and report back that would be awesome. There is an accessible picnic table mentioned on the sign so I am thinking it might be a great trail. I would rate the trail I tried Wheelie Easy for the first half mile and then Just Turn Around.
George J. Mitchell Field
On our way through town, we saw an ice cream shop and a possible porta-potty. That is where we headed next. Thankfully we were right about the porta-potty. As we were sitting in the parking lot, we saw some people who appeared to be walking a trail down to the water. We went and checked it out and it was a fully paved road/trail at George J. Mitchell Field. This was an amazing find.
This place has a cool history. This is the description from the Harpswell Heritage Land Trust site (we are currently working with the Town of Harpswell to add the trail to Maine Trail Finder):
For a variety of recreational offerings, Mitchell Field can't be beat. This 120-acre former U.S. Navy fuel depot property was transferred to the Town in 2001 from the Federal Government. It boasts several miles of paved and gravel paths, a sandy beach, a bandstand that hosts outdoor concerts, and the Harpswell Community Garden.

It's a great place for walking, bicycling, swimming, cross-country skiing, picnicking and so much more. On clear days, you can see Mount Washington 80 miles to the west.

The easy outer perimeter gravel road is wide and level, making it a great choice for almost anyone to traverse. There are a few openings that run through the woods, known as the "woods trails" where you can seek relief from the sun with tall old-growth trees and grassy trails.
We parked near the ice cream shop right by the main road. From there the trail winds along the edge of the field to the right for a little less than a mile.
Enock at the entrance to the George J. Mitchell field trail.
The paved portion of the trail has some significantly wide cracks that may be tough for certain tires. I could see some front caster tires getting caught if people were not looking for the cracks. They are quite manageable if you pay attention.

A significant crack in the pavement.
As you get down to the water you will see the stunning views of the bay and a pier that was used to offload fuel from ships. It is now a fully paved path out to the end where there are large metal moorings used to secure the ships while offloading their cargo.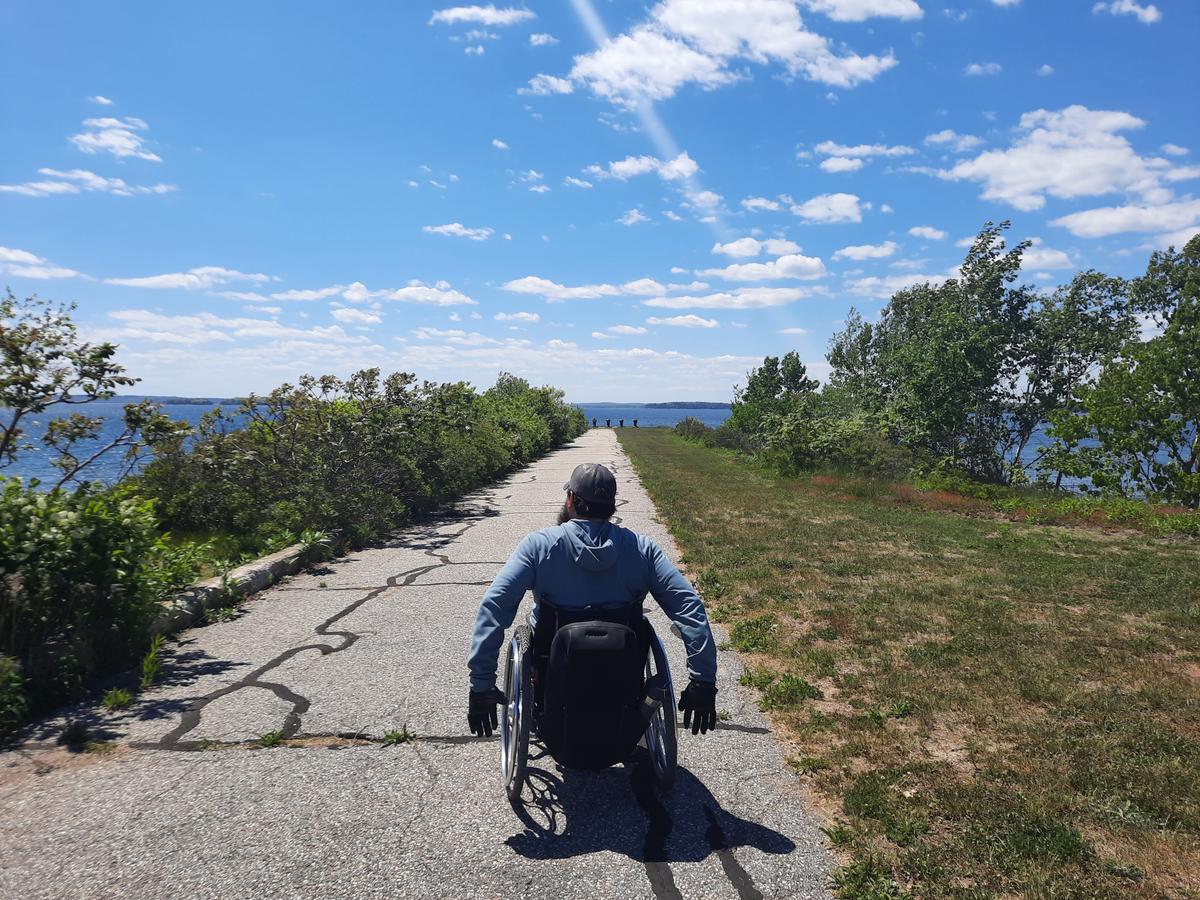 Enock on his way to the old mooring site.
After leaving the pier and taking a right the paved trail continues along the shore. There is a beach but it is really hard to get to in a wheelchair. We chose to keep going up to where the trail turns right onto a dirt portion of the road.
This section of the trail is mostly a very gradual uphill all the way back to the parking lot. It is very rocky which makes it trickier to push. I got my front wheels caught several times on the rocks but it wasn't hard to push around them. I wouldn't say this section is accessible but with a different surface, all the other elements are there to deem it accessible.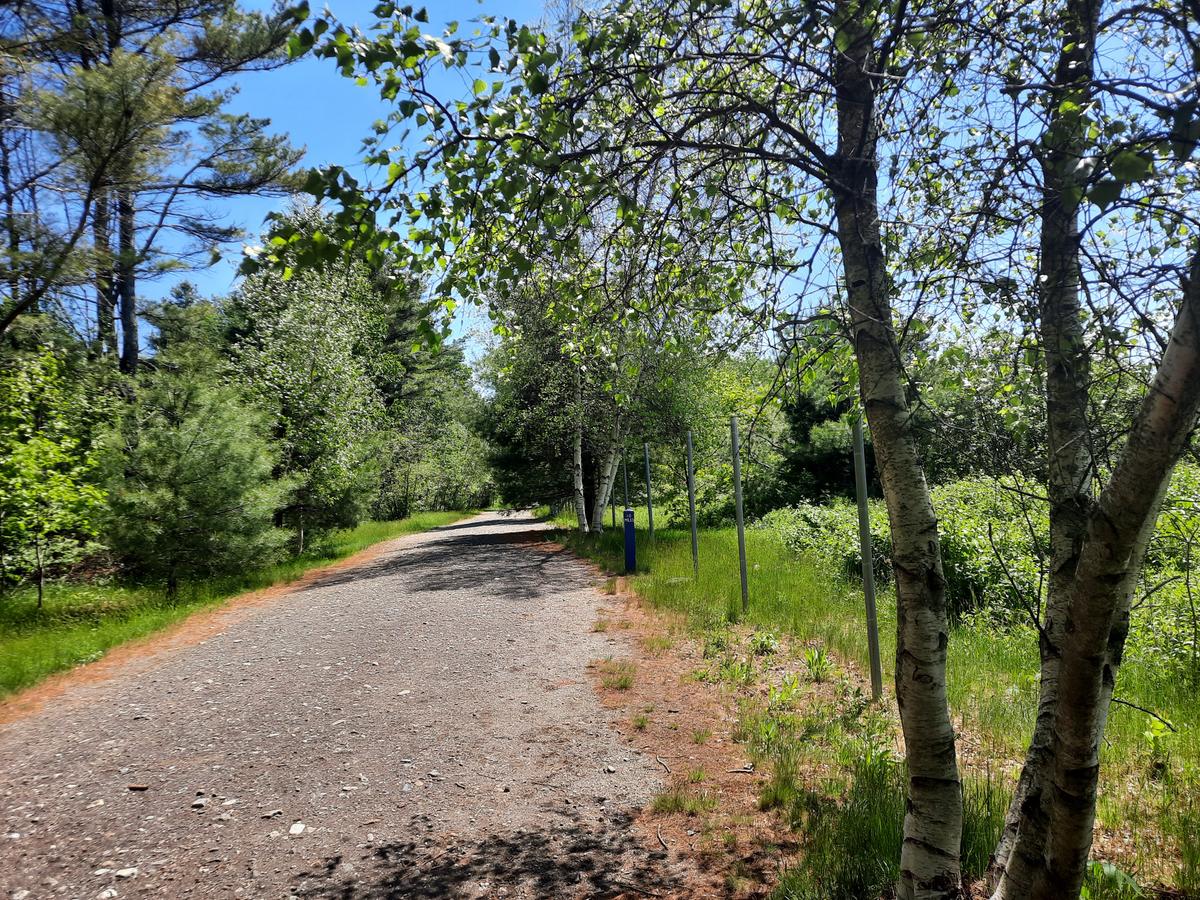 Unpaved section of trail.
I would rate this trail half Wheelie Easy and half Wheelie Moderate. The paved section is mostly flat or downhill and easy. The dirt section is only moderate due to the long stretches of uphill and the surface.
There are three accessible porta-potties on this property which is totally unheard of. I usually have a hard time finding one let alone three! Also, you can drive down to the water if you do not want to or don't have the ability to hike the distance. There are a lot of parking and places to sit and enjoy the incredible scenery and ocean breezes.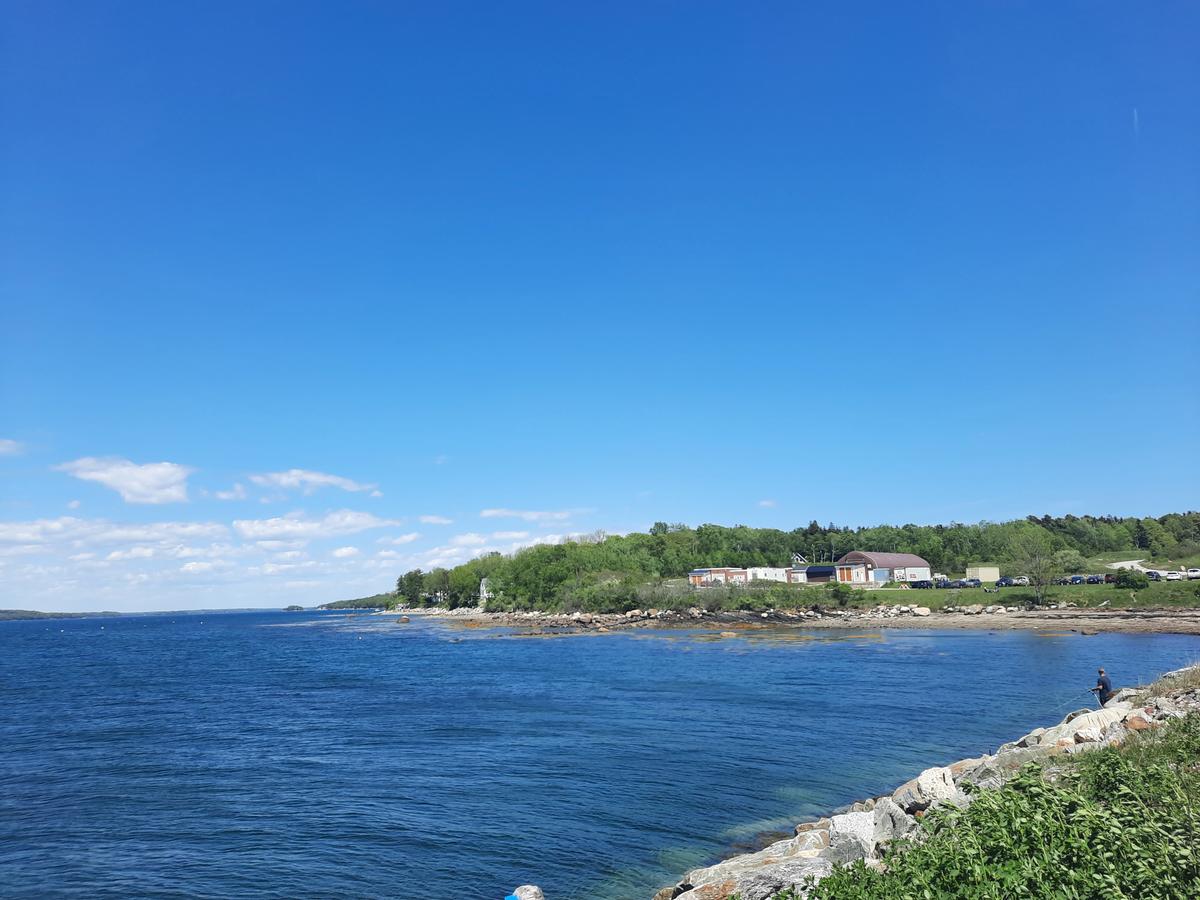 View over Middle Bay from the George J. Mitchell trail.
At an awesome moment, I met one of the maintenance crewmen working on painting a post near the trail. He gave me some insider information about a new accessible trail behind the town office. He was a wealth of information about the trails in the area. Unfortunately, we were pretty burned out by then. That first trail adventure of the day did us in! However, I am planning to go back with all the knowledge I obtained. Be on the lookout for a Harpswell Day Two adventure and maybe more. There are a lot of properties to explore in this area. I have a feeling this is going to become our go-to destination for the coast.
This year I am hoping to get some group or one on one hikes together. I would love to interview other people with disabilities about their experiences in the outdoors. The more perspectives we can get the better the information will be and the more progress we can make.
If you have a different type of mobility issue or a different disability and you visit this trail or others, please comment on this post and give us your feedback. The more knowledge we gather and share, the more people we can get outside using the trails of Maine!