Description
Long Ledges: 318 acres of well managed, upland forest land containing a small pond and vernal pools. Features include granite outcroppings, glacial erratic boulders and a small overgrown, historic granite quarry. The Frenchman Bay Conservancy has developed an extensive trail system throughout the preserve.
Baker Hill: This public preserve is 58 acres on the southern slope of Baker Hill on Punkinville Road. The property is forested and features several trails that lead to granite ledges looking south to Mount Desert Island and north to Schoodic Mountain. The easement mandates public access to the trails and prohibits development and commercial timber harvesting.
Both Long Ledges and Baker Hill have wooden number signs marking trail intersections which correspond to the numbers on their map which can usually be found at each trailhead.
Other Information

This trail passes through a property that was acquired in part with funds from the Land for Maine's Future program. For more information about the LMF program and the places it has helped to protect, please visit the LMF webpage.
Downeast Phenology Trail
While visiting this beautiful trail take part in our scientific research project, which is part of the Downeast Phenology Trail. Millions of songbirds migrate south every fall along the northeast coastline. To get from here to there they need stopovers to refuel on fruits and insects. This hiking trail is one of those stopover locations.
As the climate changes, temperatures are going up. And as things heat up, fruits ripen and insects emerge earlier and earlier. But, birds are migrating south later and later. Will there be any fruits or insects left for the birds when they fly through our region? You can help us answer this question--check out our project website before you go for your hike.
Schoodic Institute is an independent 501c3 nonprofit organization committed to advancing ecosystem science and learning for all ages through a unique partnership with Acadia National Park. Schoodic Institute and Acadia National Park are national leaders in the development of new techniques to involve the public in science, education and conservation.
Trail Manager
Visit Frenchman Bay Conservancy online for more information and a printable map or contact: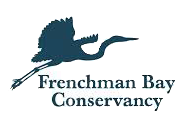 Frenchman Bay Conservancy
71 Tidal Falls Road
PO Box 150
Hancock, ME 04640-0150
info@frenchmanbay.org
View website