Description
Schoodic Bog is located at the foot of Schoodic Mountain in Sullivan. From the parking lot, an easy gravel path heads out to the bog. Most of the hike is on old gravel roads and the gravel multi-use Down East Sunrise Trail. The trail is marked with blue diamond FBC signs posted along trees beside the road. There is a small detour off the gravel trail where beavers have flooded the road. Follow the detour trail through woods and across bog bridging over a small brook back to the original trail. The Schoodic Bog Trail ends at the Down East Sunrise Trail. Turn right and follow the Down East Sunrise Trail to reach the 150-acre Schoodic Bog, filled with water lilies, cattails, carnivorous pitcher plants, beavers, eastern painted turtles, and other wildlife.
Other Information

This trail passes through a property that was acquired in part with funds from the Land for Maine's Future program. For more information about the LMF program and the places it has helped to protect, please visit the LMF webpage.
Trail Manager
For more information and a printable preserve map, please visit Frenchman Bay Conservancy's website.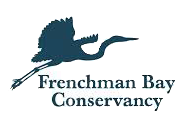 Frenchman Bay Conservancy
71 Tidal Falls Road
PO Box 150
Hancock, ME 04640-0150
info@frenchmanbay.org
View website