Description
The Schoodic Connector Trail links 6.5 miles of trail from US-1 in Sullivan to the summit of Schoodic Mountain.
Frenchman Bay Conservancy has connected over 1,100 acres of conserved land from US-1, north to the Down East Sunrise Trail. The conserved land includes the Conservancy's Baker Hill, Long Ledges, and Schoodic Bog Preserves off of Punkinville Road and Schoodic Bog Road in Sullivan.
From the Schoodic Bog Trail's junction with the Down East Sunrise Trail, a trail on privately owned land leads to the top of Schoodic Mountain. The Schoodic Mountain Trail leads down the other side of the mountain to the State of Maine's Donnell Pond Public Reserved Land. Schoodic Mountain's summit is bare and flat with 360 degree views, including dramatic views over Frenchman Bay and Mount Desert Island. The Donnell Pond Public Reserved Land includes more than 14,000 acres of remote forested land with crystal clear lakes, secluded ponds, and mountains with panoramic views. This public land includes miles of trails traversing Black, Caribou, and Tunk Mountains.
Other Information
The trail up Schoodic Mountain from the Down East Sunrise Trail is on private property, please use respectfully.

This trail passes through a property that was acquired in part with funds from the Land for Maine's Future program. For more information about the LMF program and the places it has helped to protect, please visit the LMF webpage.
Trail Manager
For more information and a printable map, please visit Frenchman Bay Conservancy's website.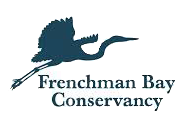 Frenchman Bay Conservancy
71 Tidal Falls Road
PO Box 150
Hancock, ME 04640-0150
info@frenchmanbay.org
View website