Description
The well maintained Maine Huts & Trails network provides several excellent options for accessing both grand views across the Carrabassett Valley and the full-service Stratton Brook Hut. Hikers, skiers, snowshoers or bikers seeking a gentler climb to the hut may take the long approach, heading east along the Carrabassett River on the Narrow Gauge Trail and then gradually ascending northwest along Crommet's Trail to the upper section of Newton's Revenge. Those interested in a steeper, shorter hike may opt to ascend Newton's Revenge or Oak Knoll trail. [Oak Knoll is a singletrack trail: recommended for bikers and not maintained for skiing.]
All three approaches feature scenic river views, switchbacks, and views of Sugarloaf and the Bigelow Mountains. The trails ascend through a mixed forest of birch, hemlock, pine, and beech trees. Animal tracks such as bobcat, snowshoe hare, deer and fox can be seen crossing the trail, especially visible in the winter.
From the Stratton Brook Hut, trails not maintained by Maine Huts & Trails lead further north and west, providing further hiking and skiing terrain. Take the Approach Trail from Stratton Brook Hut to access these trails and the Bigelow Preserve.
[The following directions are from the Route 27/Stratton Brook Trailhead. For directions from Campbell Field Trailhead and more trail information please refer to the official Maine Huts & Trails map and website.]
From Route 27/Stratton Brook Trailhead: follow the trail from the parking lot kiosk for about 75 yards. This short trail connects to the northern end of the Narrow Gauge trail; take a left. Continue over a bridge and take a right, staying on the Narrow Gauge trail. Continue down the Narrow Gauge, gently losing elevation and following the Carrabassett River. After about 0.5 miles you'll see the sign for Newton's Revenge on the left.
From here there are a few ways to Stratton Brook Hut.
Via Newton's Revenge- Newton's Revenge starts with a gentle uphill slowly getting steeper while winding its way up via switchbacks. Just before the start of the steep switchbacks, at about 1.5 miles, you'll see an intersection for Crommet's Trail; taking a right here will take you to Poplar Hut. Continue up Newton's Revenge towards Stratton Brook Hut. Take a left onto the service road and continue approximately 0.1 miles to the hut. Total distance is about 3 miles.
Via Oak Knoll from Newton's Revenge- [Oak Knoll Trail is not groomed in the winter] After 0.4 miles on Newton's Revenge, you'll see a sign for Oak Knoll on the left. At this point, Oak Knoll is a single track with beautifully crafted stone switchbacks, winding up to Stratton Brook Hut. You'll cross over the service road twice; but continue straight, staying on Oak Knoll. You'll come to a "T" intersection where Oak Knoll joins Newton's Revenge. Take a right onto Newton's Revenge, and continue about 50 yards until you connect to the service road. At this point you have two options to get to Stratton Brook hut: take a hard left and continue 100 yards to the hut, OR continue straight to a single track trail. This trail winds through the woods and exposes great views of Sugarloaf. This is a 0.5 mile section that leads to Stratton Brook Hut. Distance from Stratton Brook trailhead is just under 4 miles.
Via Narrow Gauge Trail to Crommet's Trail- Continue past the sign for Newton's Revenge on Narrow Gauge Trail. The Narrow Gauge Trail is a double-track trail great for classic and skate skiing; it follows the Carrabassett River descending steadily. Approximately 2.5 miles down the Narrow Gauge, turn left onto the Narrow Gauge By-Pass Trail, beginning a steady uphill climb for 0.4 miles to an intersection. Bear right onto Crommet's Trail and continue for 1.5 miles and then turn right onto Newton's Revenge and continue up into increasingly steep switchbacks. Just before the service road, you'll see where Oak Knoll comes in on the right. Continue to the last intersection in about 0.1 miles, and take a left to Stratton Brook hut. Total distance from Stratton Brook Trailhead is just under 6 miles.
Other Information
Maine Huts & Trails is comprised of four 'huts' connected by about 80 miles of trail. Each hut is open to the public year-round, offering potable water and bathrooms at no charge. There are overnight accommodations for up to 40 people, but reservations must be made in advance. During full-service season, meals are included with overnight lodging, Beer and wine is available for purchase, and lunch is open to the public on Saturdays & Sundays.
The groomed primary Maine Hut Trail is marked with white diamond-shaped markers and other ungroomed side trails are marked with blue blazes. Grooming information can be found online at the Maine Huts & Trails website. Information on hut services and lodging as well as printed maps are available at the Maine Huts & Trails office in Kingfield. Check out their website below for more detailed information.
Dogs are allowed on the trails from April 15th to October 15th. Dogs are not allowed inside the huts.

This trail passes through a property that was acquired in part with funds from the Land for Maine's Future program. For more information about the LMF program and the places it has helped to protect, please visit the LMF webpage.
Trail Manager
For more information and detailed trail maps, please visit the Maine Huts & Trails website or contact: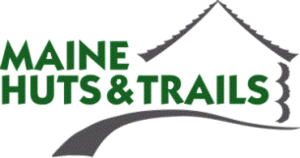 Maine Huts & Trails
496C Main Street
Kingfield, ME 04947
Phone: (207) 265-2400
Fax: (207) 265-2209
lodging@mainehuts.org
View website