Description
The West Branch Penobscot River is an attractive, remote waterway. Access to the river is limited by its remoteness. Visitors are responsible for their own safety. Plan ahead and research the area to ensure a safe and enjoyable trip.
This 9.3-mile section of the West Branch Penobscot River can be completed in one long day with a shuttle, or creatively explored from one of the many different boat launches. While the segment of river above this one is popular with whitewater rafters and kayakers, this section is better suited for the casual paddler, with a few mandatory portages.
This section of river has three falls, each with a portage: Pockwockamus Falls (Class IV, upstream of the boat launch), Debsconeag Falls (dangerous Class V), and Passamagamet Falls (Class II-III). Paddling the long stretches of deadwater between each of the falls is a good option for visitors without a shuttle. The many side channels and quiet backwaters provide some of the best opportunity for wildlife watching in the region. There are also three lakes/ponds (River Pond, First Debsconeag Lake, Passamagamet Lake) connected to this section of river for extended exploration; see the Maine Trail Finder connector trails postings more information.
Other Information
Maine Bureau of Public Lands charges a modest fee for overnight camping in the Penobscot River Corridor. There is no fee for access to the area for day use. More information here.
Trail Manager
For more information, please contact the Maine Bureau of Parks and Lands- Penobscot River Corridor.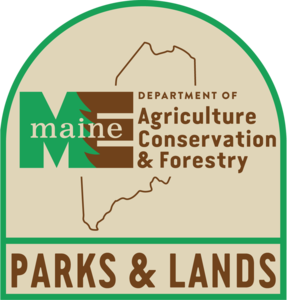 Maine Bureau of Parks and Lands, Penobscot River Corridor
P.O. Box 655
Millinocket, ME 04462
Phone: (207) 592-1153 (Apr-Nov) (207) 941-4014 (Dec- Mar)
View website