Hide Map
Trailhead
The Down East Sunrise Trail can be accessed from many road crossings along its 89 miles. However, parking is provided at the following locations:
Washington Junction, Hancock: From Ellsworth: Take Main Street east from junction of US Route 1A, US Route 1, and ME Route 3. Continue 2.5 miles and turn left on Railroad (Siding) Street. Look for parking and trailhead signs. From East: Travelling on US Route 1, continue two miles west of the intersection with ME Route 182 and turn right on Washington Junction Road. Continue for about 2 miles before turning right on Railroad Street. Look for parking and trailhead signs.
Franklin (ME Route 182): Vehicles can park where the Down East Sunrise Trail intersects ME Route 182 in the center of Franklin.
Sullivan (ME Route 183/Tunk Lake Road): At the intersection of US Route 1 and ME Route 183/Tunk Lake Road in Sullivan, turn north and travel 4 miles. Parking is where the trail intersects ME Route 183/Tunk Lake Road.
Cherryfield (North Street): From the intersection of US Route 1 and ME Route 193 in Cherryfield, take ME Route 193 north for about 1 mile. Turn left on North Street at Mathews Grocery. Park either at Mathews Grocery or continue to the North Street Cafe at 109 North Street and park there. Coming east on ME Route 182 turn left at North Street just after crossing the trail.
Columbia Falls (Tibbettstown Road): At the intersection of US Route 1 and Tibbettstown Road in Columbia Falls, turn north. Continue a very short distances and park where the trail crosses Tibbettstown Road.
Machias (US Route 1): Parking is right off the north side of US Route 1 at the green boxcar and Station 98. Coming from downtown Machais this is just before the causeway/dike (it is just after if coming from the east). Vehicles without trailers are also allowed to park on the causeway.
East Machais (US Route 1): Turn off US Route 1 onto Willow Street next to Archibold's One-Stop Gas Station in East Machias and park in the large parking lot immediately to the left (behind Archibold's One-Stop Gas Station and next to Downeast Salmon Federation Aquatic Research Center).
East Machais (ME Route 191): From the intersection of US Route 1 and ME Route 191, follow ME Route 191 seven miles north to where the trail intersects the road. Park in the gravel lot on the west side of the road.
Dennysville (ME Route 86): From the intersection of US Route 1 and ME Route 86 in Dennysville, follow ME Route 86 one mile west of the intersection and turn north on Milwaukee Road. Go 100 feet to gravel parking lot on right where the trail intersects the roadway.
Ayers Junction, Pembroke (ME Route 214): This is the eastern most trailhead. From the intersection on US Route 1 and ME Route 214, follow ME Route 214 north 4 mile. There is a gravel parking lot on the left side of the road where the trail intersects the roadway.
Description
The 89-mile trail traverses a variety of landscapes providing scenic views of coastal mountains, forests, open wetlands, and blueberry barrens. Along the way, twenty-eight bridges span tree-lined streams and salmon rivers. Sections of the trail are described below going from west to east.
Ellsworth to Washington Junction Road (unmarked mileage): In 2016, the Sunrise Trail was extended East to connect with Ellsworth's High Street, at the Comfort Inn. The first 1,000 feet of the Down East Sunrise Trail extension is paved with asphalt, and the rest of the 2.2-mile trail extension is covered with crushed concrete. Unlike the rest of the trail, this stretch is parallel to the railroad tracks, which are used by the Downeast Scenic Railroad.
Washington Junction to Franklin (milepost 2-11): The western end of the trail is at Washington Junction in Hancock. For the first few miles, the trail provides excellent opportunities for wildlife watching at it crosses Egypt Stream and a couple small dirt roads. In Franklin, the trail crosses several roads, including ME Route 182 which becomes the Blackwoods Scenic Byway just east of Franklin.
Franklin to Tunk Lake Road (milepost 11-18): This section of trail is bordered by the Donnell Pond Public Lands Unit for over two and a half miles and by the Frenchman Bay Conservancy's Schoodic Bog Preserve for over a mile. These conservation lands offer extraordinary scenery and recreation opportunities. A dramatic view of Schoodic Mountain sneaks up on trail users entering Schoodic Bog from the west. Swimming, picnicking, and camping can be enjoyed with a side trip to Donnell Pond's Schoodic Beach.
Tunk Lake Road to Unionville (milepost 18-26): The trail continues through remote forestland and crosses just a few logging roads before reaching Unionville.
Unionville to Cherryfield (milepost 26-30): The trail parallels and eventually crosses Tunk Stream as it leaves Unionville. The trail intersects ME Route 182 at the eastern end of the Blackwoods Scenic Bay. It then traverses the Narraguagus River at Cable Pool in Cherryfield via an early 20th century steel trestle bridge. Cable Pool, now a Town Park, is a historically significant salmon pool.
Cherryfield to Harrington (milepost 30-37): The trail skirts downtown Cherryfield's Historic District and then parallels US Route 1 for almost three miles before crossing several roads and the Harrington River.
Harrington to Columbia Falls (milepost 37-43): After crossing North Street in Harrington, the trail heads north into more remote forestland before dropping south again into Columbia Falls. In this section, the trail crosses the Pleasant River.
Columbia Falls to Jonesboro Station (milepost 43-47): The trail becomes semi-remote again in the four mile stretch from Columbia Falls to Jonesboro Station.
Jonesboro Station to Whitneyville (milepost 47-55): The trail becomes increasingly remote, crossing the Chandler River, numerous streams, and beaver ponds. This section of the trail passes by the corner of the Jonesboro Wildlife Management Area and provides good opportunities for wildlife viewing.
Whitneyville to Machias (milepost 55-59): Leaving Whitneyville, the trail crosses the Machias River and cuts through freshwater marshes and upland forests. Skirting downtown Machias, the trail crosses just two roads in this section before reaching the Machias Railroad Station.
Machias to East Machias (milepost 59-63): The trail crosses the Machias Dike, which also houses a flea market and a farmers' market in the summer. In this section, trail users can experience an aspect unavailable on multi-use trails elsewhere in Maine: proximity to salt water. Before reaching the US Route 1 bridge in East Machias, the trail crosses extensive salt marshes while providing beautiful views across the Machias and East Machias rivers.
East Machias to Rocky Lake Unit (milepost 63-70): The trail quickly ventures away from the coast and runs through fields and forests while paralleling ME Route 191. The trail intersects the southeast corner of the Rocky Lake Public Lands Unit before swinging east towards Dennysville. It's just a short side trip to the boating and camping areas on Rocky Lake's shore.
Rocky Lake to Dennysville (milepost 70-80): Forests and numerous ponds and streams define this trail section. Enjoy beautiful views over Harmon's Stream, the East Ridge and Great Works Wildlife Management Areas, and the Denny's River before reaching Dennysville Station.
Dennysville to Ayers Junction (milepost 80-87): The trail continues through relatively remote forestland until it reaches its eastern terminus at Ayers Junction, just a few miles north of the village of Pembroke.
Other Information
The Down East Sunrise Trail is a project of the Maine Department of Transportation and the Maine Division of Parks and Public Lands. The project has successfully rehabilitated 89 miles of the Calais Branch rail corridor for possible future rail use while at the same time providing a wide, compact gravel-based trail for immediate recreational use.
The trail is managed for the use of snowmobiles, ATV-ers, pedestrians, bicyclists, cross-country skiers, and equestrians and is open for summer and winter use. In the spring during "mud season" there may be temporary closures in areas due to weather or trail conditions. For up-to-date information check the website or call (207) 546-2730.
Dogs are welcome if leashed and owners clean up after them. On multi-use trails, motorized vehicles must yield to non-motorized traffic. The Maine Bureau of Parks and Lands asks all visitors to demonstrate courtesy and respect to all other trail users as well as to adjacent landowners.
The Down East Sunrise Trail has been designated as a section of the East Coast Greenway, a developing trail system that spans nearly 3,000 miles between Canada and Key West. It represents the longest off-road section of the East Coast Greenway in New England. For more information on the East Coast Greenway, visit the website.
The Sunrise Trail Coalition is a nonprofit membership organization, supporting the trail and serving as a management committee for the Department of Conservation. For information about the Sunrise Trail Coalition, membership forms, and the latest activity updates and photos of the trail, visit the website.

This trail passes through a property that was acquired in part with funds from the Land for Maine's Future program. For more information about the LMF program and the places it has helped to protect, please visit the LMF webpage.
Trail Manager
Visit Maine Bureau of Parks and Lands online for more information and a printable map or contact: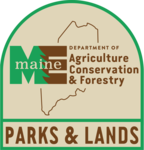 Maine Bureau of Parks and Lands, Down East Sunrise
PO Box 27
Cherryfield, ME 04622
Phone: (207) 546-2730

Nearby Geocaches

Check for nearby geocaches to Down East Sunrise Trail.
Leave No Trace Principle
Respect Wildlife
Avoid unwanted animal guests: store your food and trash securely and keep your camp clean of crumbs and spills.