Why Walk?
There's no doubt about it, walking is good for you! Good for the body, good for the soul.
For Your Body
You don't have to run marathons or scale soaring mountain peaks to benefit from physical activity. Dr. Mike Evans explains in his video 23 and ½ Hours how just 30 minutes of walking a day is the single best thing you can do for your health.
Walking can prevent weight gain, lower blood pressure, lower blood sugar, strengthen the heart, boost immunity, ease joint pain, reduce the risk for cancer and chronic disease, improve endurance, circulation, and posture… the list goes on!
For Your Brain
Have you ever gone for a walk to "clear your head?" Studies show that walking can enhance cognitive abilities and help you think more creatively. Walking can boost your mood and improve mental health as well. It only takes three 30 minute walks a week to help reduce anxiety and depression, and improve mood, self-esteem, and mental alertness.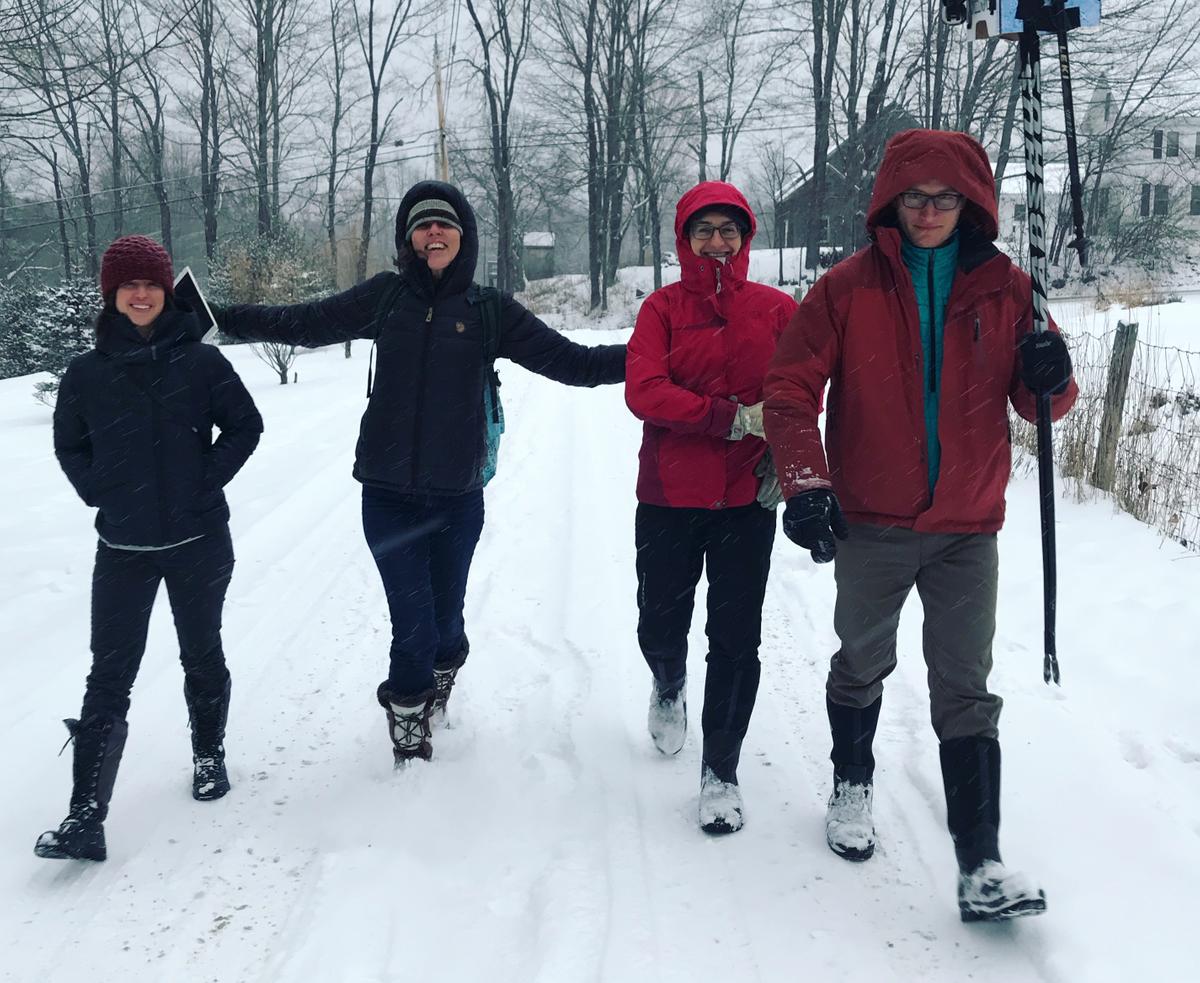 Rain, snow or shine - get out and walk!
Psychologist
David Strayer
coined the term "three-day effect" to describe
his findings
that show after three days in nature, participants performed 50% better on creative problem-solving tasks. Strayer describes the three-day effect as cleaning the "mental windshield."
For Your Spirit
What's more, simply getting outside is highly beneficial. Forest bathing, or shinrin-yoku as it's called in Japan, is a practice of intentionally spending time outside in order to increase one's energy, health, and well-being.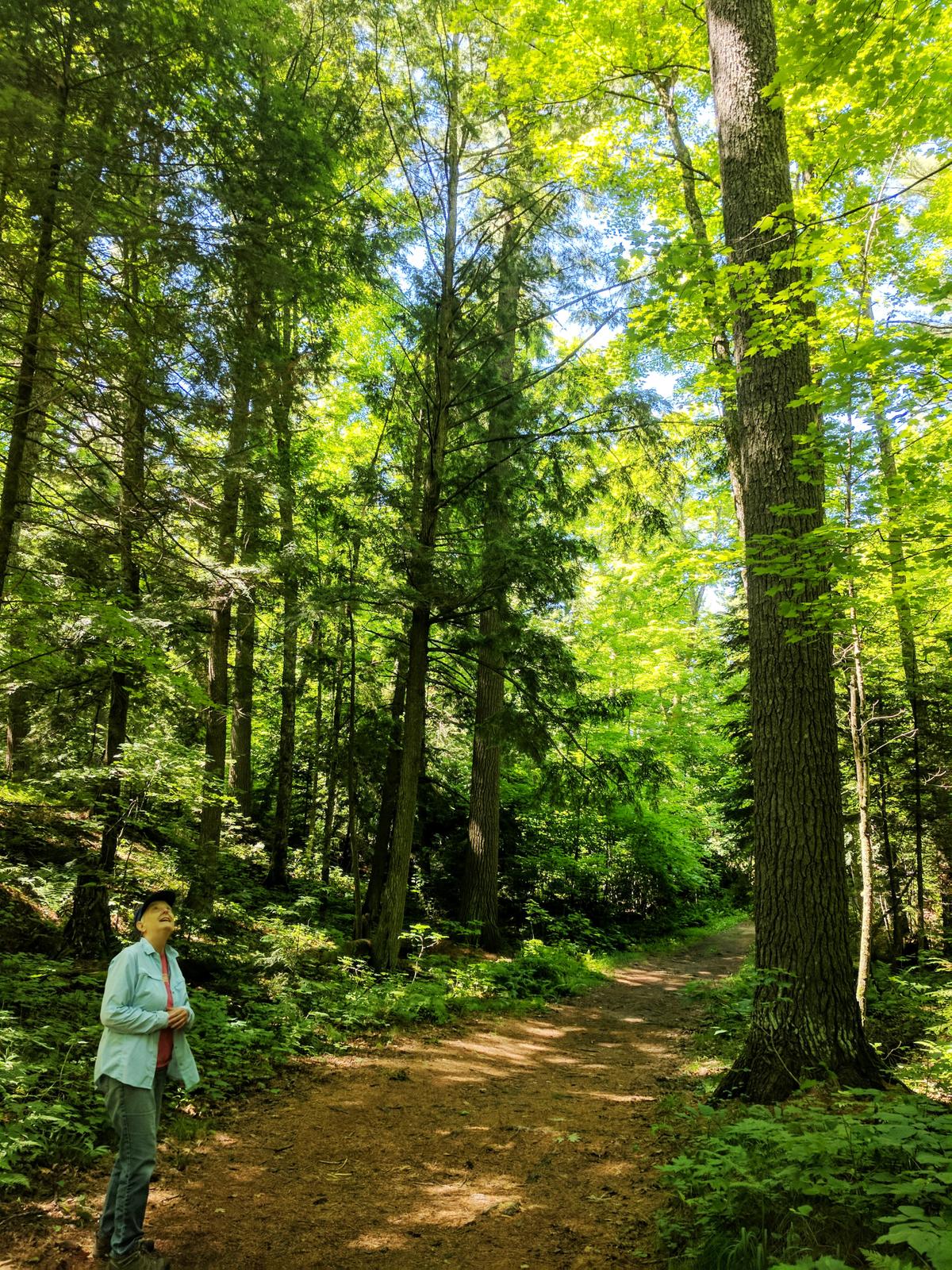 Walking outside can increase the already astonishing benefits of activity
Research supports that time in nature can do just this. In 2010, scientists in Japan found that exposure to a forest environment lowers the pulse, blood pressure, and stress hormones. In 2015, researchers at Stanford University found that subjects had both decreased anxiety and increased cognitive function after going for a walk outside.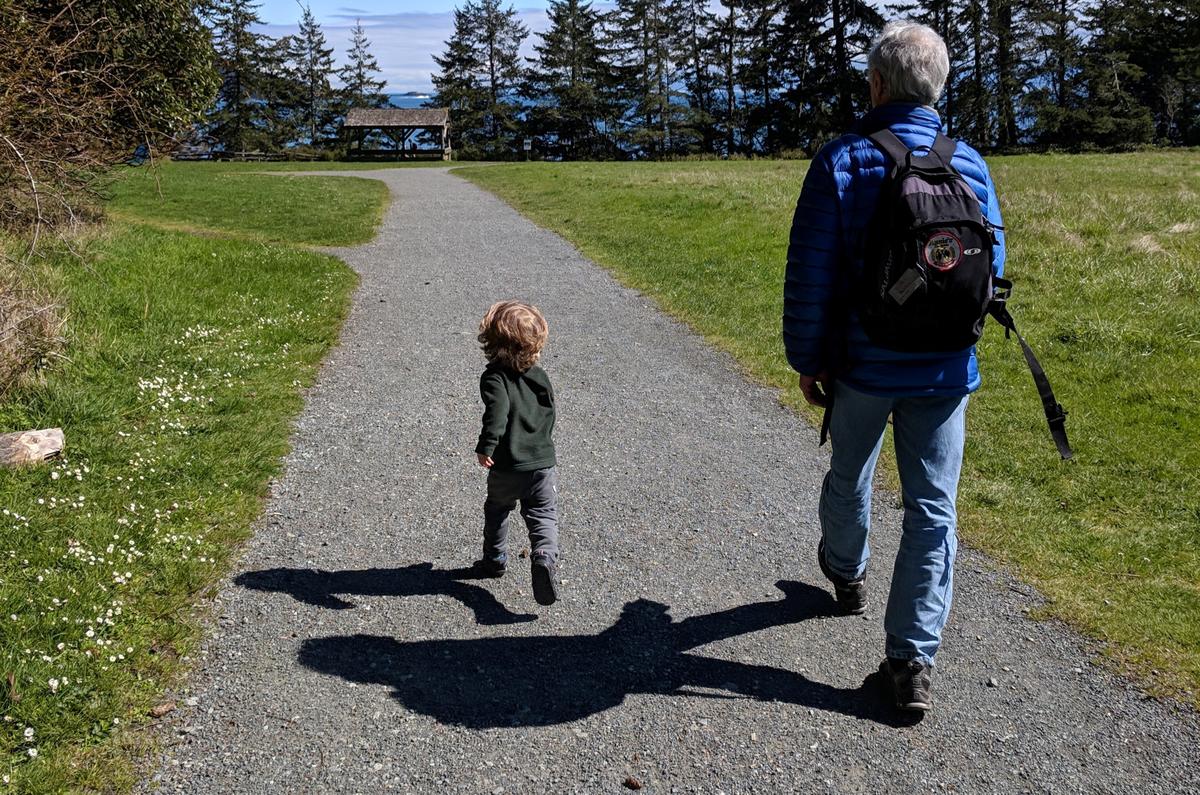 Walking is a great activity for the whole family!
Where Can i walk outside?
We have over 600 easy hiking and walking trails listed on Maine Trail Finder. With all of these options, it is sometimes hard to know where to start a daily walking routine. Here are some tips for finding the best trail for you:
From our home page, hover over the "Trails" menu and then select Find Trails. Over 900 trails will show up as pins on a map of the state of Maine. To narrow them down, click on the green Find Trails button in the upper right. From that menu, you can filter trails by activity, difficulty and distance. All you have to do is pick one of the options in the dropdown menu, then select Search.
You can also filter by location. If you are at home, just check the box next to "Find trails near me," choose a distance and select search. If you are looking for trails in a specific town, choose the town from the dropdown menu instead.
We also have a popular search option both on the Find Trails menu and on the Popular Searches page. The Bike Paths search will display all of the paved and gravel bike and walking paths across the state. These are great places to walk without having to worry about tripping over roots or rocks. Because many are converted railways, they often go through towns and near neighborhoods.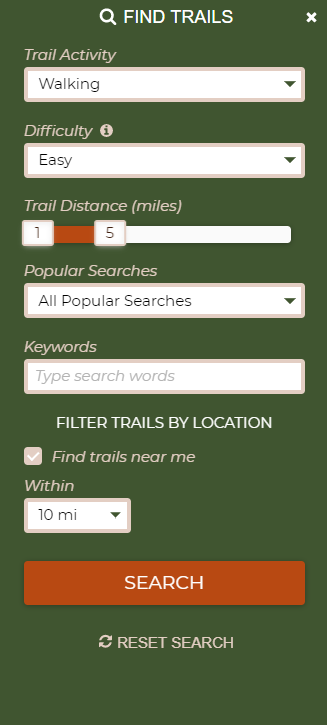 For all of these searches, a map of the trails that fit your filters will appear. If you would prefer a list of trails instead, just click "See List View" in the orange bar across the top of the screen.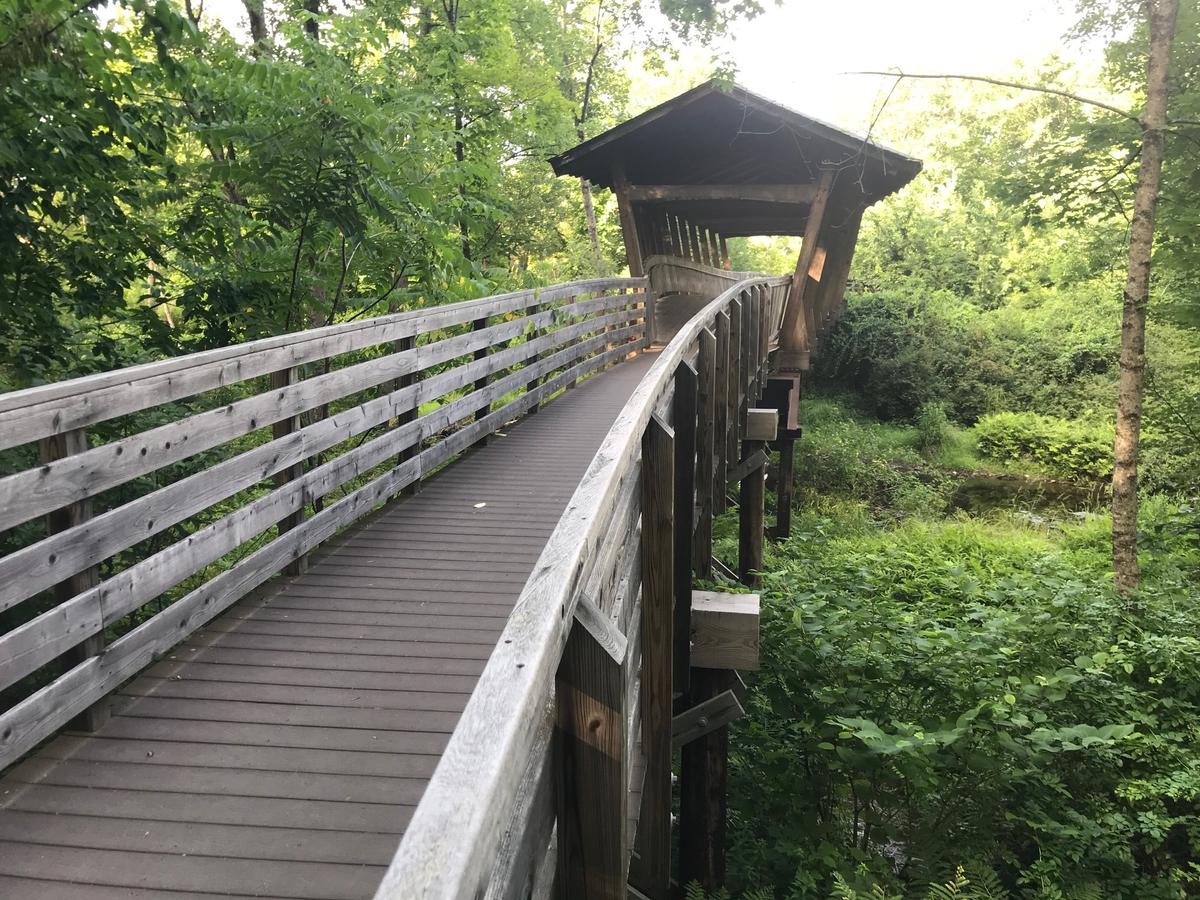 Maine is full of trails with interesting features like this covered walkway at Pondicherry Park in Bridgton
some of our favorites
Take Dr. Evans' advice to heart by getting in your 30 minutes of walking on some of our favorite walking trails around the state!
Bangor
A forest walk isn't far away from Maine's 3rd largest city's bustling downtown. The Kenduskeag Stream Trail cuts through city as it follows the stream from a city park along Valley Ave to downtown. The pathway is mixed between dirt and gravel and there are a few moderate hills along the river. The views of the stream and the peace of the forest are well worth it!
Looking for paved path instead? Check out the Bangor Waterfront Trail!
Augusta
Evoking Augusta's industrial roots, the Kennebec River Rail Trail follows the route of a historic railroad along one of Maine's largest rivers. The path is wide and paved and travels from downtown Augusta all the way to Gardiner. There are numerous access points to the river -- you may even get the chance to see a bald eagle or a jumping sturgeon if you are lucky!
Want a loop rather than a rail trail? Check out the trail system at Viles Arboretum!
Lewiston/Auburn
The paved walking paths of the Lewiston-Auburn Greenway provide easy access to urban walking on both sides of the Androscoggin River. The Greenway connects city in parks in Lewiston and Auburn with opportunities to sit and look at the river as a resting point along your walk.
Looking for a more forested trail? Check out Sherwood Forest Conservation Area!
Portland
There are many opportunities across the city to get out for a nice walk whether you prefer a forested oasis or a waterfront walk. For one, check out the easy loops through Baxter Woods. The network of trails intersects multiple times for opportunities to lengthen or shorten your walk.
Want to walk along water instead? Check out the Back Cove!
South Portland
The Spring Point Shoreway has it all. The gravel and paved path provides views of Portland Harbor as well as the historic Spring Point Lighthouse. At low tide, walkers can even leave the path to stroll in the sand - long walk on the beach, anyone?
A little blustery along the water? Check out the Robinson Woods and Stonegate Trails!
Ellsworth
Historically used for exercising horses, the forested and wide paths at the Woodlawn Museum, Gardens and Park provide multiple walking opportunities. The system's design allows you to work your way into walking the whole system, one loop at a time. The trails pass by a lily pond and historic structures as well.
Want to see more local history? Check out the Indian Point Trail!
What motivates you to get out and walk? Let us know in THE comments BELOW!